Slow Cooker Queso Chicken Tacos are one of those recipes that appeal to kids and adults alike. And who doesn't love tacos? These will be the best tacos you'll ever have!
This Mexican-style recipe is perfect for taco Tuesday or any day of the week. The chicken cooks in a slow cooker for about six hours, giving you plenty of time to do other things. This crockpot dish has only four ingredients and is so easy!
Slow Cooker Queso Chicken Tacos are the perfect way to get your Mexican-food fix without a lot of work. All you need is chicken, taco seasoning, diced tomatoes and green chiles, and Mexican cheese dip – less than five ingredients!
What is a Queso Chicken Taco?
A queso chicken taco is a type of taco that is made with chicken and cheese. The cheese can be any type of cheese, but it is typically a Mexican cheese such as cheddar or Monterey Jack. The chicken is usually shredded or diced, and it is often cooked in a slow cooker with salsa or enchilada sauce. Queso chicken tacos are often served with lettuce, tomatoes, sour cream, and guacamole.
How to Make Slow Cooker Queso Chicken Tacos recipe?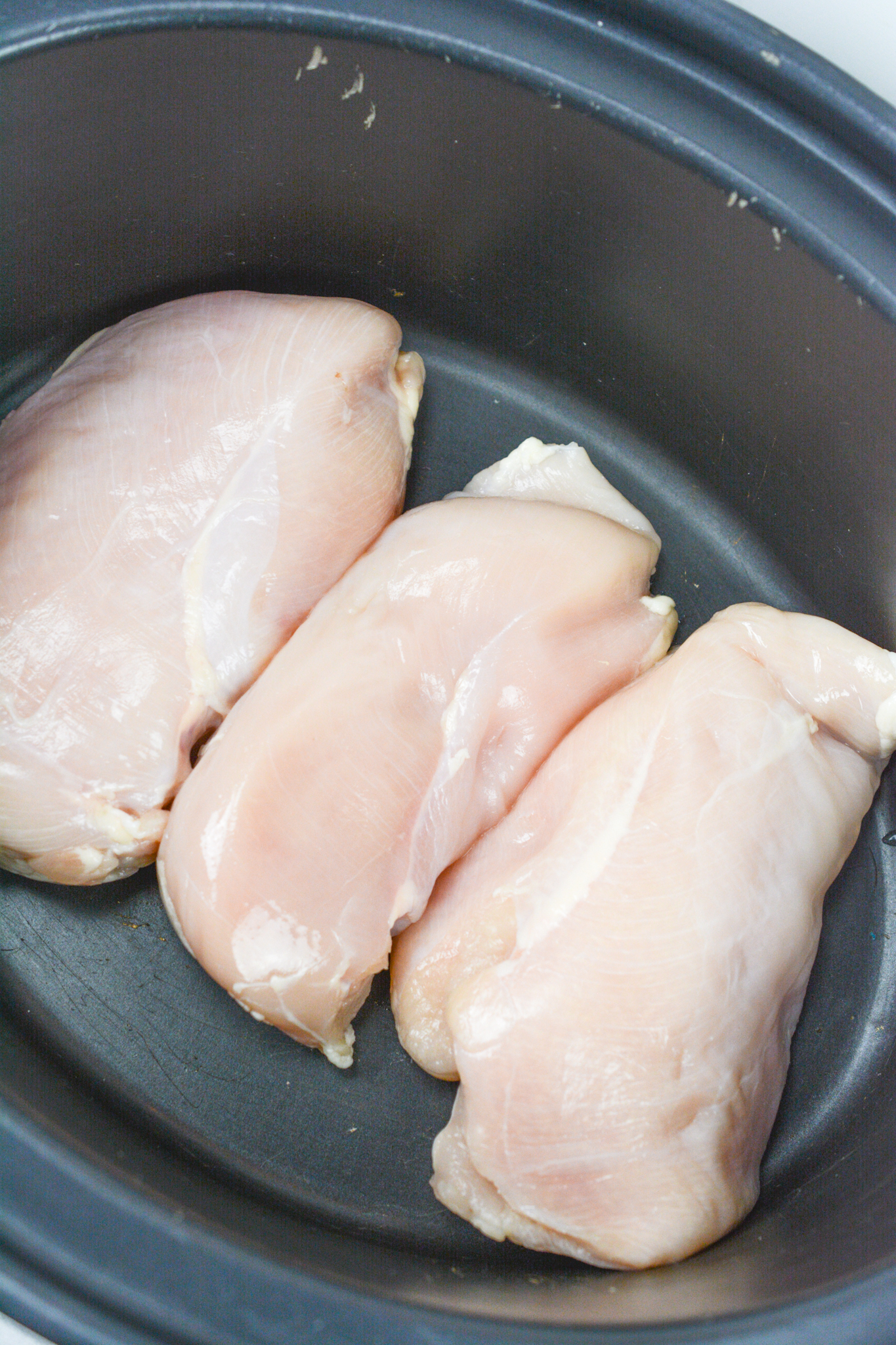 If you love tacos and queso, then you'll love this recipe for slow cooker queso chicken tacos! These tacos are easy to make and can be made in advance, making them perfect for busy weeknights. Simply throw all of the ingredients into your slow cooker in the morning, and let it do its magic. Dinner will be ready before you know it!
To make these tacos, you'll need boneless, skinless chicken breasts, jarred salsa, diced tomatoes, canned corn optional, black beans optional, and shredded cheese. You'll also need some seasonings: chili powder, cumin, garlic powder, salt, and pepper. Simply combine all of the ingredients in your slow cooker, set it to low, and let it cook for 4-5 hours.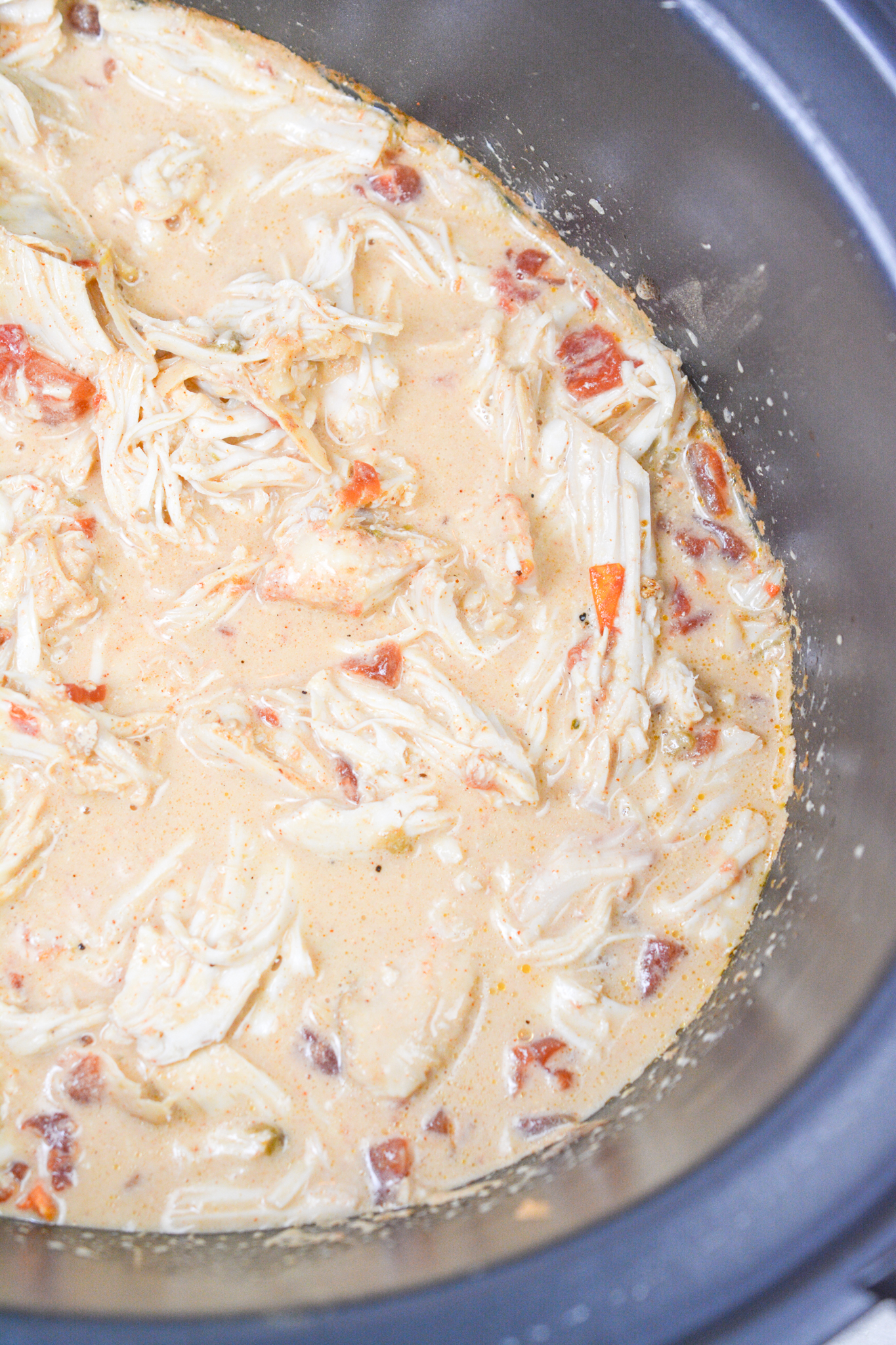 When the chicken is cooked through and tender, shred it with a fork or chop it into small pieces. Then, assemble your tacos however you like! I like to use soft tortillas, but you could also use hard shells if you prefer. Top your tacos with shredded chicken, some queso (or cheese sauce), diced tomatoes, lettuce, and anything else you like. Serve immediately. Enjoy!
Slow Cooker Queso Chicken Taco Variations: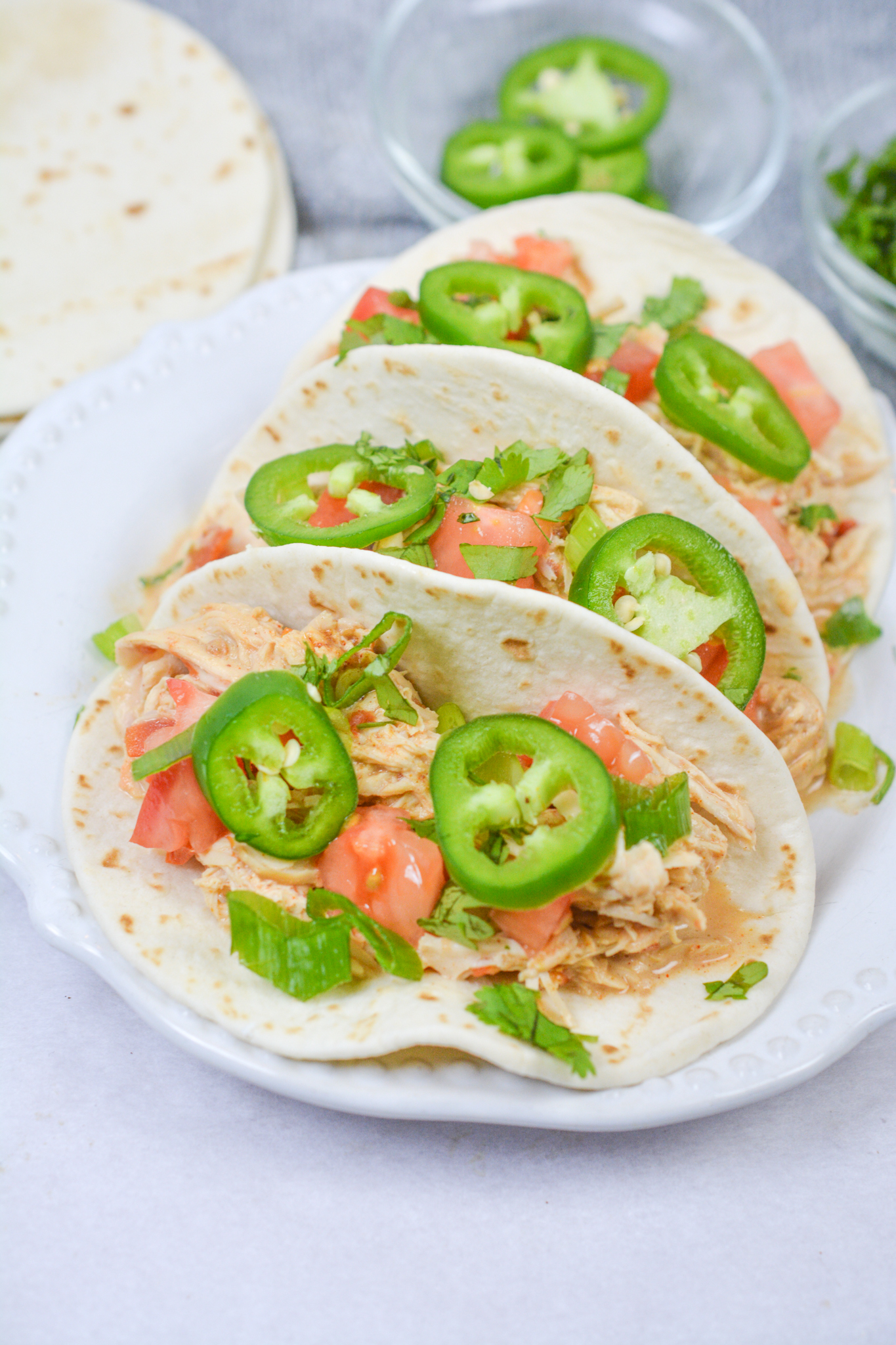 If you love tacos, then you'll definitely want to try this delicious Slow Cooker Queso Chicken Taco recipe! This dish is so easy to make and can be easily customized to your liking. For example, you can use any type of tortilla you prefer or add in additional toppings like sour cream, salsa, canned corn, black beans, jalapenos, or guacamole. And if you're looking for a little more spice, simply increase the amount of chili powder used in the recipe. Trust me, these tacos will be a hit with everyone!
How to Freeze Slow Cooker Queso Chicken Tacos?
These tacos are super easy to make and only require a few ingredients. Plus, they can be made ahead of time and frozen for future meals. That means no more last-minute dinner prep! Simply thaw the tacos overnight in the fridge and then reheat them in the microwave or oven before serving.
If you're anything like me, you love Mexican food. Tacos, in particular, are one of my all-time favorite meals. And while I typically make them the traditional way, with ground beef or chicken, there are times when I want to change things up a bit. That's where these Slow Cooker Queso Chicken Tacos come in.
Queso Chicken Tacos – What to serve with it?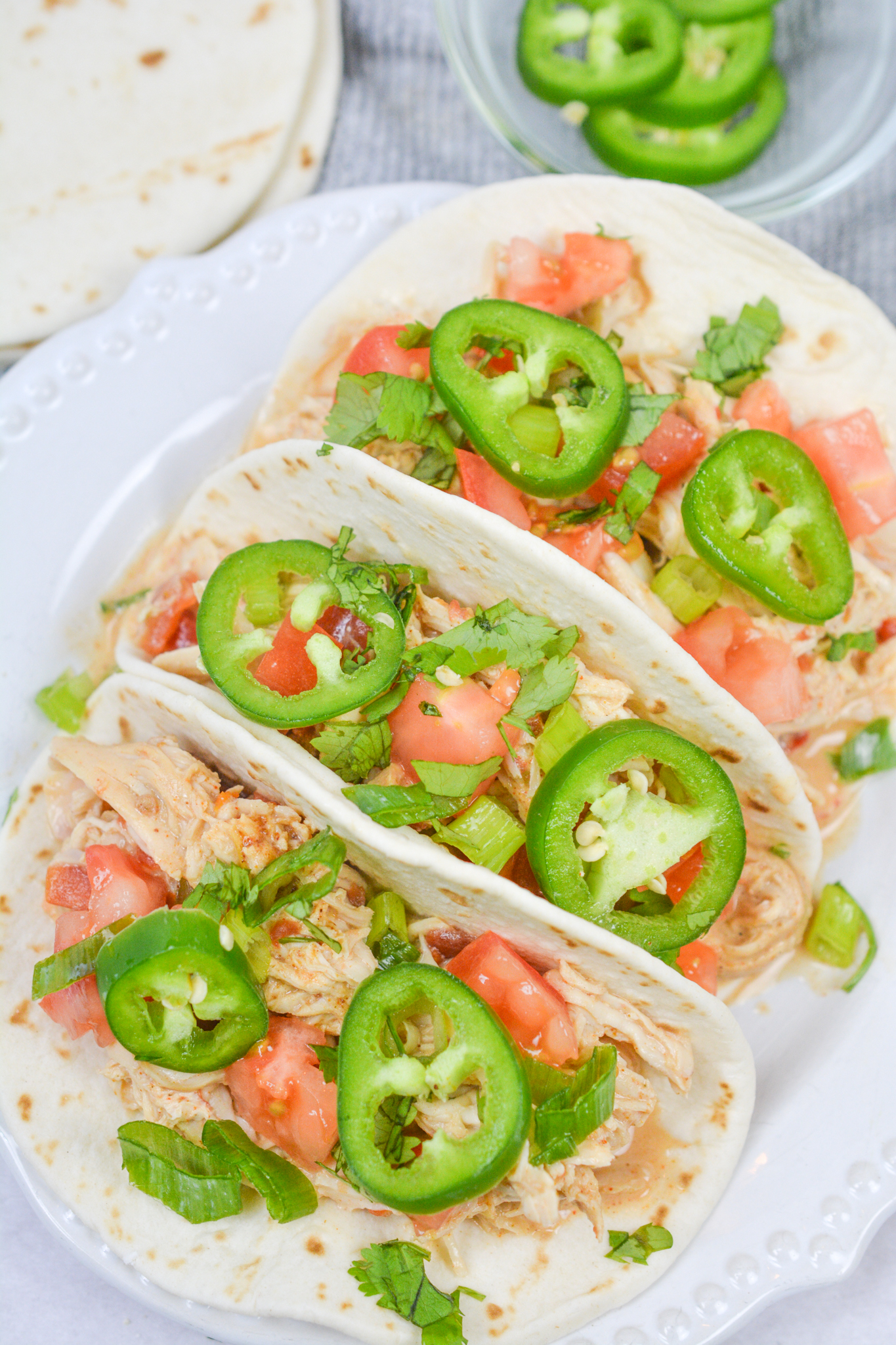 When it comes to queso chicken tacos, there are a few things you can do to make them even more delicious. First, consider serving them with a side of refried beans. This will help to soak up all of the delicious sauce and give you an extra dose of protein. You can also top them with a dollop of sour cream or some fresh cilantro. Lastly, be sure to have plenty of napkins on hand, as these tacos can be messy!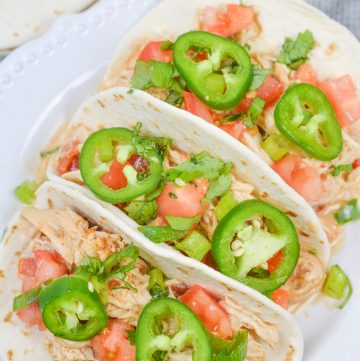 Slow Cooker Queso Chicken Tacos Recipe
Slow Cooker Queso Chicken Tacos are the perfect weeknight dinner! They are so easy to make and the queso sauce is to die for!
Equipment
Crockpot™

or any slow cooker brand.
Ingredients
2

lb

chicken breast

(cooked and shredded or shred it after putting it to slow cooker)

1

10 oz can diced tomatoes and green chilies, undrained

1

Package of taco seasoning

you can make it at home or buy it ready

1-½

Mexican cheese dip
Instructions
In a slow cooker, combine chicken, tomatoes, and green chilies, a package of taco seasoning, and Mexican cheese dip.

Cover and cook on low for 4-5 hours or until cheese is melted and bubbly.

Serve chicken mixture on soft tortillas, garnished with sour cream and cilantro, if desired. Enjoy!
Notes
Be sure to top your tacos with all of your favorite toppings, and enjoy! If you're looking for a bit more of a kick, feel free to add some extra spices to the chicken before cooking.
These tacos are great as is, but you could also top them with your favorite salsa or guacamole.
Use Mexican cheese such as cheddar or Monterey Jack
Nutrition
Serving:
1
g
Calories:
213.5
kcal
Carbohydrates:
6.53
g
Protein:
28.79
g
Fat:
6.71
g
Saturated Fat:
2.88
g
Polyunsaturated Fat:
0.48
g
Monounsaturated Fat:
0.78
g
Trans Fat:
0.01
g
Cholesterol:
97.53
mg
Sodium:
747.77
mg
Potassium:
441.12
mg
Fiber:
0.28
g
Sugar:
3.05
g
Vitamin C:
3.48
mg
Calcium:
71.34
mg
Iron:
0.52
mg
Do you want more delicious Chicken Recipes? These are some of my top picks: